Dr. Clarence Alston, Superintendent of Schools
Phone: 609 383-6800
alston.clarence@pps-nj.us
Dr. Garnell Bailey, Assistant Superintendent
Phone: 609 383-6800
bailey.garnell@pps-nj.us
Mr. Elisha Thompkins, Business Administrator/
Board Secretary
Phone: 609 383-6800
Dr. Noëlle Jacquelin, Director of Curriculum and Instruction
Phone: (609) 383-6800 x2399
News & Announcements
IMPORTANT INFORMATION FOR SNAP RECIPIENTS
ABOUT YOUR FEBRUARY BENEFITS
Due to the federal government shutdown, you will be recieving your February Supplemental Nutrition Assistance Program (SNAP) benefits earyl. If you received a SNAP benefit in January and were scheduled to receive SNAP in February, your February benefits will be available on your Families First card on January 17.
This is your benefit for the entire month of February, so please budget with that in mind.
February cash assistance benefits for Work First New Jersey (WFNJ) Temporary Assistance for Needy Families (TANF) and General Assistance (GA) will be available on your Families First card on your regular date.
For ongoing updates on how the federal shutdown may Impact your SNAP benefits, visit NJSNAP.gov.
NJ Department of Human Services
Phil Murphy, Governor I Shelia Oliver, Lt. Governor I Carole Johnson, Commissioner
This institution is an equal opportunity provider.
The Middle School of Pleasantville is selling the super valuable KidStuff Coupon Book just in time for both personal and holiday savings. The purchase of the book also includes a 12 month membership to the New KidStuff App! The app has local and national coupons for savings on the go…even across the country! It's a win-win! You save money and time AND you are helping us raise money for our student activities! Books are just $25 which you can "earn back" with the use of just a couple of coupons. Click on the link below to learn more about the books and/or to purchase them online. You can also contact Janelle Robinson at (609) 383-6800 x3141 for more information. Thank you for supporting our students!
https://getkidstuff.com/?ref=PLE436854-21292
Professional guidance, assessment and an educational program are all available free for eligible children. For more information please contact the Pleasantville Public Schools District Child Study Team office at 383-6800 ext. 2240 or ext. 2241.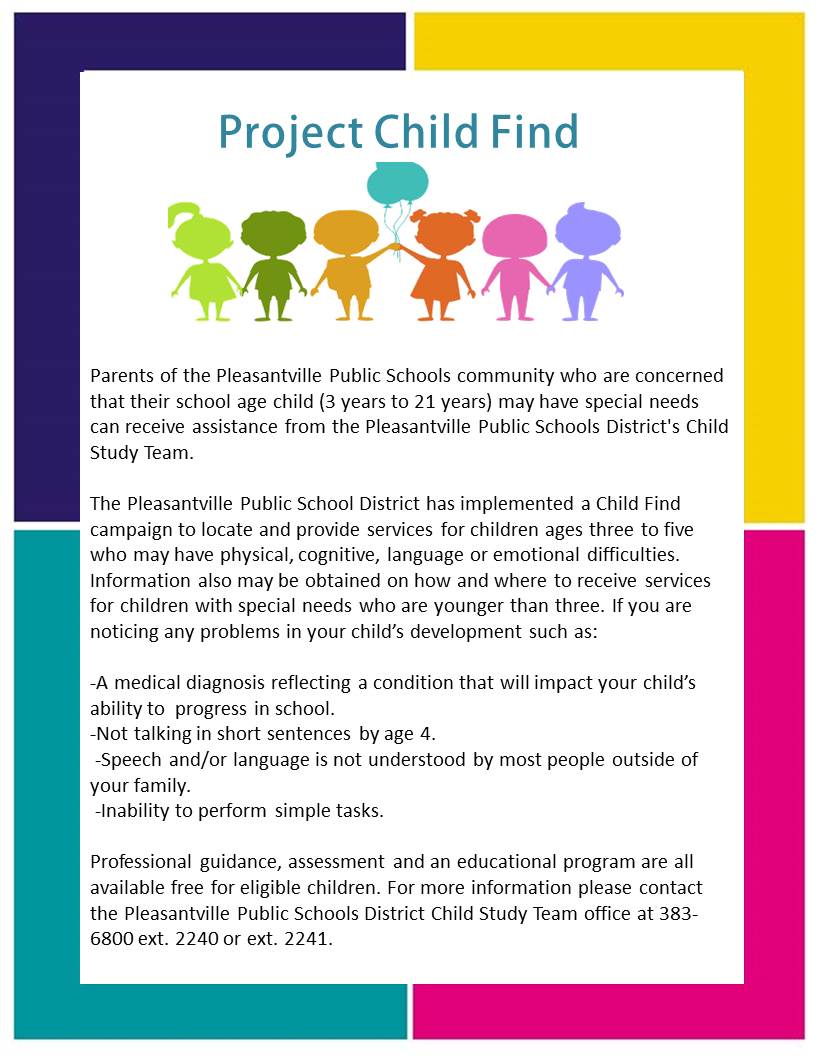 FREE Pre-K Registration is now OPEN! Morning: 8:30 AM - 12:30 PM
Afternoon: 1:30 PM - 3:30 PM Monday - Thursday 16 W. Leeds Avenue
Attention! Pleasantville Public Schools Important Notice Regarding Road Construction.
Please click the links below for details.
IMPORTANT NOTICE REGARDING ROAD CONSTRUCTION
ON OR ABOUT MAY 14TH 2018 SOUTH JERSEY GAS WILL BEGIN
IT'S REMEDIATION PROJECT WHICH WILL INVOLVE SEVERAL
ROAD CLOSURES STARTING AT NORTH FRANKLIN BVD. AND
OLD TURNPIKE. THESE CLOSURES WILL EFFECT ALL TRAFFIC
INCLUDING ALL SCHOOL BUSES. PLEASANTVILLE TRANSPORTATION
STAFF WILL BE INSTRUCTING PARENTS AND STUDENTS TO ALTERNATE
PICKUP AND DROP OFF STOPS AS NEEDED. THANK YOU IN ADVANCE FOR
YOUR PATIENCE FOR THIS WILL CAUSE DELAYS THRU THE END OF THIS
CURRENT SCHOOL YEAR AND INTO THE UPCOMING SCHOOL YEAR.
SHOULD YOU NEED ANY MORE INFO REGARDING THIS PROJECT PLEASE
FOLLOW THE LINKS PROVIDED BY SOUTH JERSY GAS.