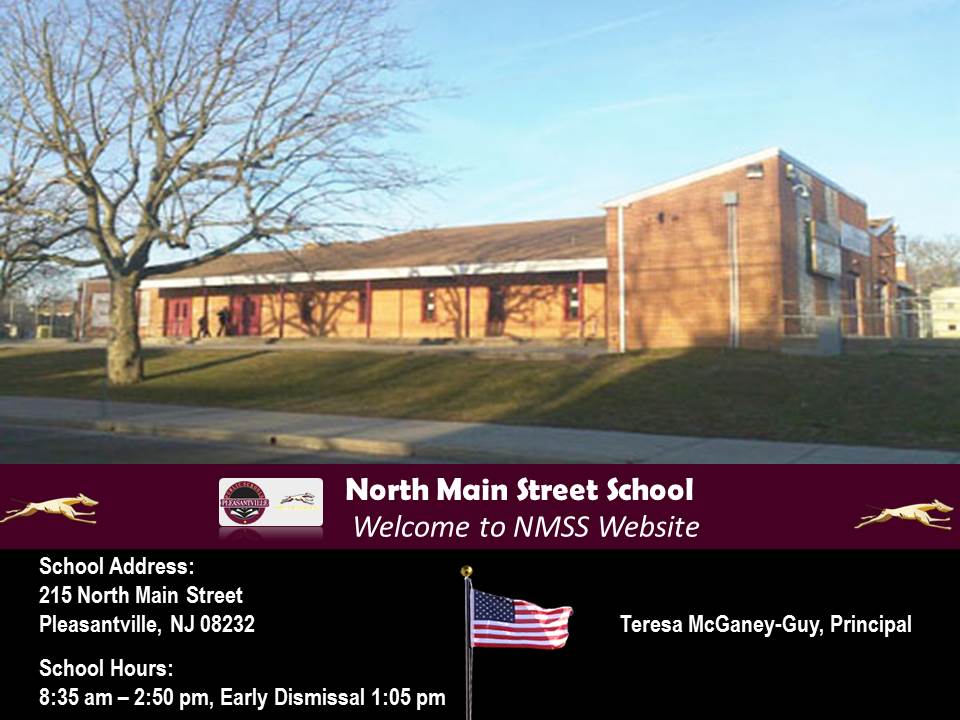 NORTH MAIN STREET SCHOOL
215 North Main Street
Pleasantville, NJ 08232
Phone (609) 383-6887
Teresa McGaney-Guy, Principal
School Hours: 8:35 am – 2:50 p.m. – Early Dismissal: 1:05 pm
Delayed Opening: 10:20 a.m. – 2:50 p.m.
In effect when announced by the
Superintendent of Schools
.
Congratulations!
PAA Administrator of the Year
Teresa McGaney-Guy is the principal of North Main Street School (NMSS) and has held various positions within the district. From the inception of her career in education, her passion and previous positions held in the educational field has steadily advanced and prepared her for her current position. Serving as a teacher for several years, Teresa was also a summer enrichment supervisor, reading facilitator, assistant principal and interim director of special projects.
In 2001, she was awarded the Teacher of the year at Leeds Avenue School; selected by Phi Delta Kappa for the Educational Excellence Award in 2015; and selected by the National Association of Negro Business and Professional Women's Clubs, Inc. in 2016 for the Professional Achievement Award.
In addition to her individual awards, Teresa and her staff at the NMSS School has received the Apple ConnectED grant, Lowes Playground grant, T-Mobile grant and the Model Classroom Grant. The Model Classroom Grant has created an opportunity to partner with Stockton University to improve literacy.
Under her leadership, NMSS was featured in two episodes of NJ Classroom Close Up, whereas the "Change is Here" episode was nominated for an Emmy, while The Peace Zone at NMSS was featured in the NJEA Review.
Her educational experiences have afforded her the opportunity to collaborate with a diverse group of people to meet the common goal of increasing student achievement and well-being. Her educational philosophy is based on her uncompromising belief that given a positive learning environment, strong and knowledgeable leadership, a committed and focused educational team, an encouraging community, and a supportive family, ALL STUDENTS CAN LEARN.
Technology and Literacy Evening at North Main Street School
Drones, robots, and virtual reality, oh my! Technology and Literacy Night was in full swing at North Main Street School on Wednesday, May 8 in Pleasantville. The hallways were flooded with students and families. The youngest at 2 years of age and the oldest a grandmother. This time the students were the teachers, and the families were the students. Classrooms became demonstration rooms. The air was electric with animated conversations, the buzz of Parrot Drones and the whirl of rolling robots. Walk into a classroom and watch out for that low flying drone. Step carefully around the rolling Ollie, Sphero and Dash robots. Take a virtual reality trip from the top of a skyscraper and look down.
Congratulations
Teacher, Educational Service Professional, and Educational Support Professional
Of the Year
Pleasantville, Stockton partner for literacy program at North Main Street School
Click photo below to view full article.
North Main Street School in Pleasantville holds African American Heritage Celebration
Click photo to view article.
Congratulations Renee Alford
2018 Exemplary Elementary Educator
North Main Street School on being a winner of the 2018 Model Classroom Grant!
The Pleasantville School District does not restrict or discriminate based on any race, color, sex, national origin or students with disabilities from participation in any district program, employment decisions or PHS career programs.