<!- sidebar-file='/sites/www.pps-nj.us/web/pps/_zumu_sidebar.html' --> <!- box:side-2 -->
Quick Links
RFP Superintenent Search Consultant Services 19-26
Anti-Bullying Resources
21st CCLC - C.A.R.E
Employee Evaluation Information
Parents Right to Know
Parent - Student Portal
Photo Gallery
Purchasing
QSAC DPR
Statement of Assurances
Teacher Resources
Technology Service Request
Title I Programs
Title IX
U: CEPA
WeatherNet
<!- box:side-2 -->
Employment
Employment
Employment Online Application Portal
<!- box:side-2 -->
Logins
Login to Google Email
Employment Online Application Portal
Oncourse Access
Parent - Student Portal
<!- box:side-2 -->
Budget Info
User Friendly Budget 2019-2020
User Friendly Budget 2018-2019
User Friendly Budget 2017-2018 (pdf)
Mr. Dennis J. Anderson, Interim Superintendent of Schools
Phone: 609 383-6800
anderson.dennis@pps-nj.us
Mr. Carmine C. Bonanni, Interim Assistant Superintendent
Mr. Elisha Thompkins, Business Administrator / Board Secretary
Ms. Karin R. Farkas, Director of Special Services
---
News & Announcements
The Greyhounds Drill Team competed in a Multi Service Drill Competition Saturday February 22, 2020 at Sterling High School.
1st Place - Unarmed Regulation
2nd Place - Armed Regulation
3rd Place - Color Guard
3rd Place - New Cadet Unarmed Squad
3rd Place Overall Winner
They also won the Exemplary Personal Performance Award that is given to one school that displays exceptional professionalism and team motivation.
The Drill Team will compete in the Regional Championships Saturday February 29, 2020 at Lenape High School... We wish them the Best
North Main Street School Black History Month celebration
PLEASANTVILLE — The North Main Street School celebrated Black History month Thursday with a presentation African music and dance.
Staff and students gathered in the school's cafeteria to watch a performance by a group of fifth grade dancers to Martin Luther King Jr.'s I Have a Dream speech followed by an interactive show by The Seventh Principle called "Bantaba: The Circle of Celebration."
The Seventh Principle performance was sponsored by the arts education organization Young Audiences which works across New Jersey and eastern Pennsylvania to bring art and music into the classroom.
Students were able to learn about different drums and drumming styles and participate on stage.
Congratulations!
Pleasantville High School Winter Co-ed track soars
at Group 2 Sectional Meet in Toms River, at Bennett Indoor Complex.
Pleasantville's Gabriel Moronta wins three South Jersey titles
Maya Harper-2nd place 400m
Sha'Naja Morgan 4th Shotput
Gabriel Moronta- 1St place 400m and 800m
Irvin Marable III- 2nd place 800m
Boys 4x400m relay- 1St place-( Keon Henry, Xander Roberts, Irvin Marable III, Gabriel Moronta.
Girls 4x400m relay- 3rd place- Amoni Ridgeway , Mikayla Surles, Zane McNeil, Maya Harper.
Pleasantville Public School District celebrates
the selection of fifth grader Joana Andujar's artwork.
From left, are Donna Vecere, director of marketing at Cooper Levenson, Joana Andujar, Kasi Gifford, Esq., Principal Teresa McGaney-Guy, and teacher
A close-up of Joana's award-winning artwork is also pictured below.
PHS Greyhounds, College Signing Athletes.
From left to right:
Melvin Casco - Frederick Community College for soccer
Gabriel Moronta - Mississippi State for track
Keon Henry -East Stroudsburg University for football
Josh Kotopko- Assumption College - football
Ernest Howard-Sacred Heart-football
PLEASANTVILLE PUBLIC SCHOOLS
2019-2020 SCHOOL YEAR BELL SCHEDULE
HIGH SCHOOL -

School Hours: 7:20 am – 2:10 p.m.




Early Dismissal: 12:33 pm
MIDDLE SCHOOL - School Hours: 8:05 am – 2:31 p.m.
Early Dismissal: 1:07 pm
ALL ELEMENTARY SCHOOLS -
School Hours:
PreK students will be dismissed at 2:50 pm
Congratulations!
PAA Administrator of the Year
Teresa McGaney-Guy
District Teacher of the Year 2019
Congratulations!
PHS Kelsey Shockley
FREE Pre-K Registration is now OPEN!
Morning: 9:00 AM - 12:00 PM
Afternoon: 1:00 PM - 3:00 PM
Monday - Thursday
16 W. Leeds Avenue
(Next to Leeds Ave. School)
Congratulations!
Pleasasntville Public Schools 2019-2020
Teacher of the Year, Educational Service Professional of the Year, and
Educational Support Professional of the Year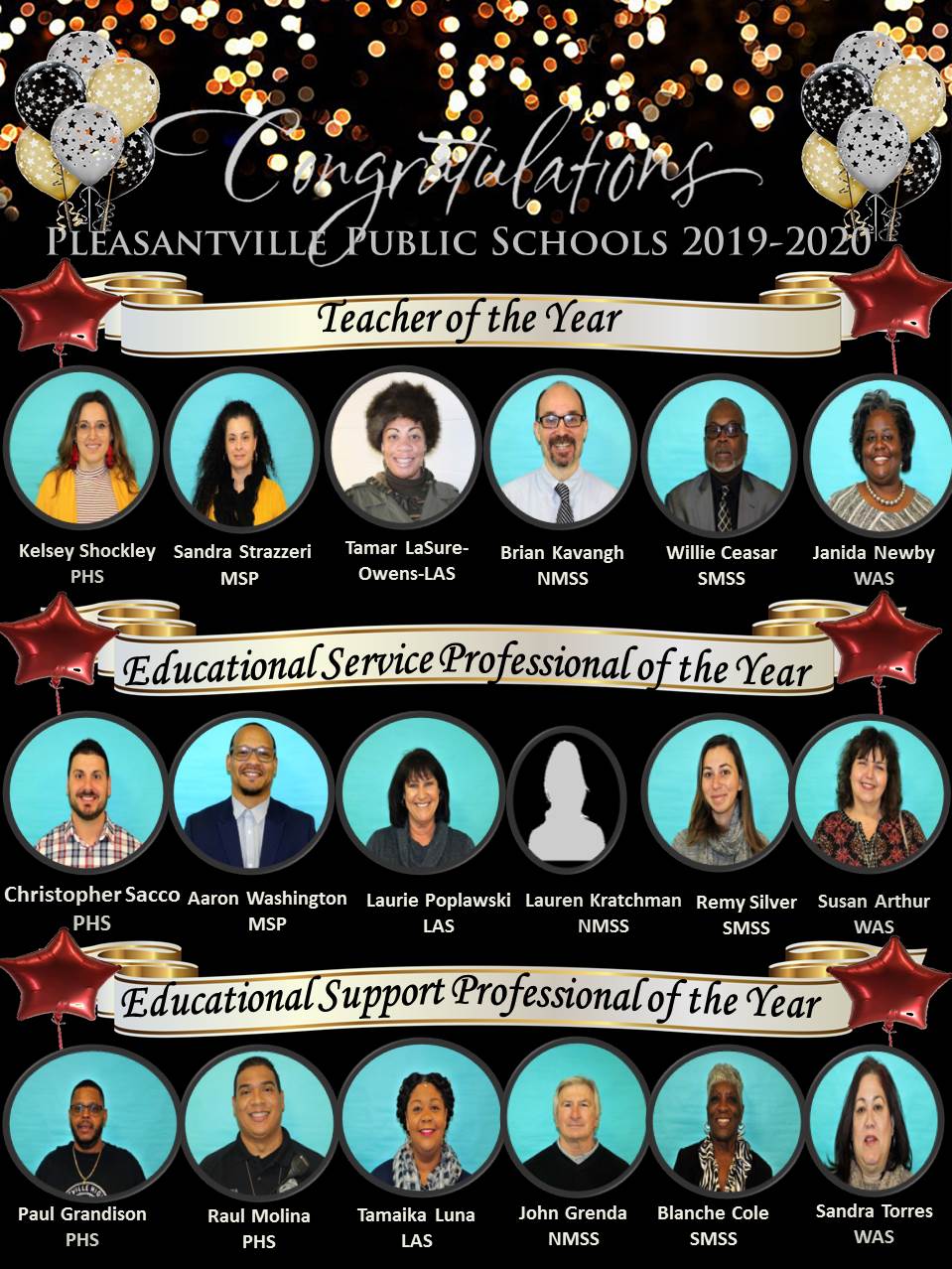 Project Child Find
Professional guidance, assessment and an educational program are all available free for eligible children. For more information please contact the Pleasantville Public Schools District Child Study Team office at
383-6800
ext. 2240 or ext. 2241.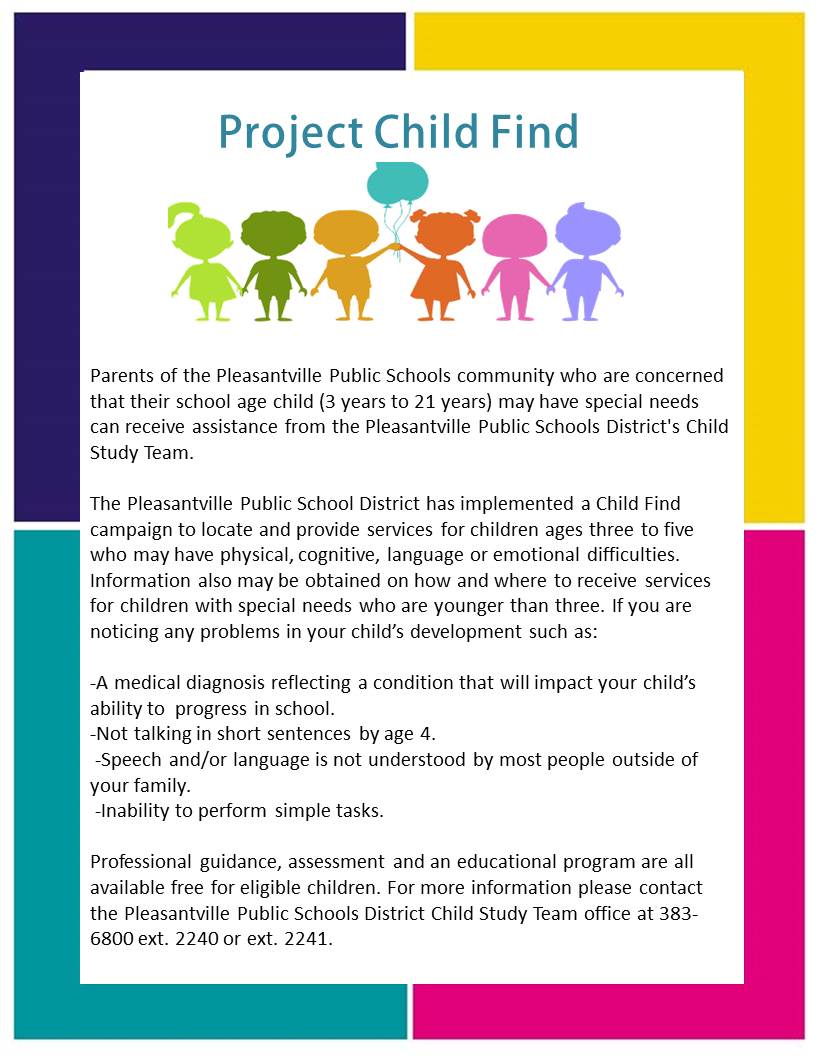 Comprehensive Equity Plan 2019-2022
This plan will help to provide equality and equity in educational programs.
School Performance Report 2017-2018
School Performance Report 2017-2018
Elementary Grading and Assessment Handbook
Standard-Based Report Card Frequently Asked Questions
Professional Development Plan
The professional development plan for the 2018-19 school year.
District Strategic Plan 2018-19
Including Superintendent and District Goals
Comprehensive K-12 Guidance Plan
For the school year 2018-19
District Technology Plan 2016-2019
Board approval August 16, 2016 meeting.
If your child should be crawlng, walking or talking but isn't call

call for information about resources and services for your child

under age 3. Statewide, toll -free 888-653-4463

The Pleasantville School District does not restrict or discriminate based on any race, color, sex, national origin or students with disabilities from participation in any district program, employment decisions or PHS career programs.



Coming Up!
Today:
Thu Feb 27
» 6:30 PM LAS - Zumba
» 5:00 PM WAS - Family Game Night
» 5:00 PM NMSS - Black History Program
Fri Feb 28
» 9:15 AM SMSS - Coffee with the Counselor Parent Workshop
Mon Mar 2
» 6:00 PM BOE Special Meeting - Pleasantville High School Cafeteria
Tue Mar 10
» EARLY DISMISSAL - Parent Teacher Conferences - PHS - 12:33 PM, MSP - 01:07 PM, All Elementary Schools 1:30 PM
» 6:00 PM BOE Action Meeting - Pleasantville High Cafeteria
Wed Mar 11
» EARLY DISMISSAL - Parent Teacher Conferences - PHS - 12:33 PM, MSP - 01:07 PM, All Elementary Schools 1:30 PM
Board Meeting Dates
All meetings begin at 6:00 pm and are held in the Pleasantville High School Cafeteria.
March 2, 2020 Special Meeting
March 10, 2020 - Action Meeting
April 7, 2020 - Action Meeting
May 5, 2020 - Action Meeting
June 9, 2020 - Action Meeting
July 14, 2020 - Action Meeting
August 11, 2020 - Action Meeting
September 15, 2020 - Action Meeting
October 13, 2020 - Action Meeting
November 17, 2020 - Action Meeting
December 8, 2020 - Action Meeting