<!- sidebar-file='/sites/www.pps-nj.us/web/pps/_zumu_sidebar.html' --> <!- box:side-2 -->
Quick Links
REVISED AND RESUBMITTED 3-16-20 Long Term Plan for School Closing Due to COVID-19
Anti-Bullying Resources
21st CCLC - C.A.R.E
District Performance Reports 2018-2019
Employee Evaluation Information
PARENT ACADEMY FOR TECHNOLOGY
Parents Right to Know
Parent - Student Portal
Photo Gallery
Purchasing
QSAC DPR
Statement of Assurances
Teacher Resources
Technology Service Request
Title I Programs
Title IX
U: CEPA
WeatherNet
<!- box:side-2 -->
Employment
Employment
Employment Online Application Portal
<!- box:side-2 -->
Logins
Login to Google Email
Employment Online Application Portal
Oncourse Access
Parent - Student Portal
<!- box:side-2 -->
Budget Info
User Friendly Budget 2020-2021
User Friendly Budget 2019-2020
User Friendly Budget 2018-2019
User Friendly Budget 2017-2018 (pdf)
Dr. Natakie Chestnut-Lee, Superintendent of Schools
Phone: 609 383-6800
chestnut-lee.natakie@pps-nj.us
Dr. Christiana Otuwa, Assistant Superintendent
Phone: 609 383-6800
otuwa.christiana@pps-nj.us
Mr. Elisha Thompkins, Business Administrator / Board Secretary
---
News & Announcements
Restart and Recovery Plan 2020-2021 School Year click image below
Plan de Reinicio y Recuperación para el año escolar 2020-2021 click image below
July 29, 2020
Dear Parents & Guardians,
The safety and well-being of our staff and students is our highest priority. The Pleasantville Board of Education recently approved a Re-Start and Re-Opening Plan for our schools this fall. A copy of the Plan is available on the District's website. The Board will hold a special meeting on August 6, 2020 at 6:00p.m. to present and discuss the Plan to our community.
Part of the Plan states that our students will return to school under a cohort/hybrid model. In accordance with the plan and our District's commitment to provide instruction in accordance with guidance from the New Jersey Department of Education and Centers for Disease Control, we have established cohorts to provide instruction while maintaining social distance.
Students who attend Pleasantville Public Schools will receive instruction in one of the three following cohorts:
Cohorts A and B will attend school for face-to-face instruction two consecutive days (either M-T or Th-Fri) in person and three days of remote instruction.

Cohort C will participate remotely for five consecutive days.

On Wednesdays all students will participate online either in small group instruction or completing assignments through Google Classroom or district instructional software programs.

On Wednesdays teachers will utilize their time to meet with Small Groups or One to One Instruction in the AM and Professional Development, Staff Meetings, and/or planning preparation in the PM.

All cohorts will follow their district schedule, New Jersey Student Learning Standards (NJSLS) Student Code of Conduct and attendance requirements as outlined in the Student Handbook.
As indicated above, the blended model is a combination of face-to-face and remote instruction. During the students' remote learning days, participating in the live classroom lessons remotely in real-time allows for interaction with other classmates and the teacher.
Cohort C option allows for complete remote learning for families that request this option.
If you prefer that your child participate in Cohort C, please fill out and immediately submit the attached form to the District's Registration Office located at next to the Leeds Avenue School, 100 W. Leeds Ave., Pleasantville, NJ 08232, or you can email the completed form to: John Hannigan at hannigan.john@pps-nj.us. This form must be completed and returned by August 21, 2020.
Please note, there will be two opportunities for you the move your child to Cohort A/B. If you decide to change your child's placement, you must make your request in writing at the end of Marking Period 2 (January) or Marking Period 3 (April).
Please contact the Office of the Superintendent if you have any questions regarding the above. Thank you for your attention to this matter.
Sincerely,
CHILD PARTICIPATION IN COHORT C
ALL VIRTUAL LEARNING FOR SCHOOL YEAR 2020-2021
______ I am choosing to have my child participate in Cohort C for the 2020-2021 school year.
Student's Name: ____________________________________________________
Parent/Guardian Name: ____________________________________________________
Parent/Guardian Signature: ____________________________________________________
Student's school: ____________________________________________________
Grade: ____________________________________________________
Phone #: ____________________________________________________
Email: ____________________________________________________
Click here to access COHORT C form English
Click here to access COHORT C form Spanish
29 de julio de 2020
Estimados padres y tutores,
La seguridad y el bienestar de nuestro personal y estudiantes es nuestra máxima prioridad.
La Junta de Educación de Pleasantville aprobó recientemente un plan de reinicio y reapertura para nuestras escuelas este otoño. Una copia del Plan está disponible en la página web del Distrito.
La Junta celebrará una reunión especial el 6 de agosto de 2020 a las 6:00 p.m. para presentar y discutir el Plan con nuestra comunidad.
Parte del Plan establece que nuestros estudiantes regresarán a la escuela bajo un modelo de cohorte / híbrido. De acuerdo con el plan y el compromiso de nuestro Distrito de proporcionar instrucción de acuerdo con la orientación del Departamento de Educación de Nueva Jersey y los Centros para el Control de Enfermedades, hemos establecido cohortes para proporcionar instrucción mientras se mantiene la distancia social.
Los estudiantes que asisten a las Escuelas Públicas de Pleasantville recibirán instrucción en uno de los siguientes tres grupos:
• Las cohortes A y B asistirán a la escuela para recibir instrucción en persona dos días consecutivos (ya sea de lunes a viernes o de viernes a viernes) en persona y tres días de instrucción remota.
• La cohorte C participará de forma remota durante cinco días consecutivos.
• Los miércoles todos los estudiantes participarán en línea, ya sea en instrucción en grupos pequeños o completando tareas a través de Google Classroom o programas de software de instrucción del distrito.
• Los miércoles, los maestros utilizarán su tiempo para reunirse con grupos pequeños o instrucción individual en la mañana y desarrollo profesional, reuniones de personal y / o preparación de planificación en la tarde.
• Todas las cohortes seguirán su horario del distrito, el Código de conducta del estudiante de Nueva Jersey (NJSLS) y los requisitos de asistencia como se describe en el Manual del estudiante.
Como se indicó anteriormente, el modelo combinado es una combinación de instrucción presencial y remota. Durante los días de aprendizaje remoto de los estudiantes, participar en las clases de clase en vivo de forma remota en tiempo real permite la interacción con otros compañeros de clase y el maestro.
La opción Cohort C permite el aprendizaje remoto completo para las familias que solicitan esta opción.
Si prefiere que su hijo participe en la Cohorte C, complete y envíe inmediatamente el formulario adjunto a la Oficina de Registro del Distrito ubicada al lado de la Escuela Leeds Avenue, 100 W. Leeds Ave., Pleasantville, NJ 08232, o puede enviar un correo electrónico el formulario completo a: John Hannigan en hannigan.john@pps-nj.us.
Este formulario debe completarse y devolverse antes del 21 de agosto de 2020.
Tenga en cuenta que habrá dos oportunidades para que traslade a su hijo a la Cohorte A / B.
Si decide cambiar la ubicación de su hijo, debe hacer su solicitud por escrito al final del Período de marcado 2 (enero) o del Período de marcado 3 (abril).
Comuníquese con la Oficina del Superintendente si tiene alguna pregunta sobre lo anterior. Gracias por su atención a este asunto.
Sinceramente,
Click the above survey in English.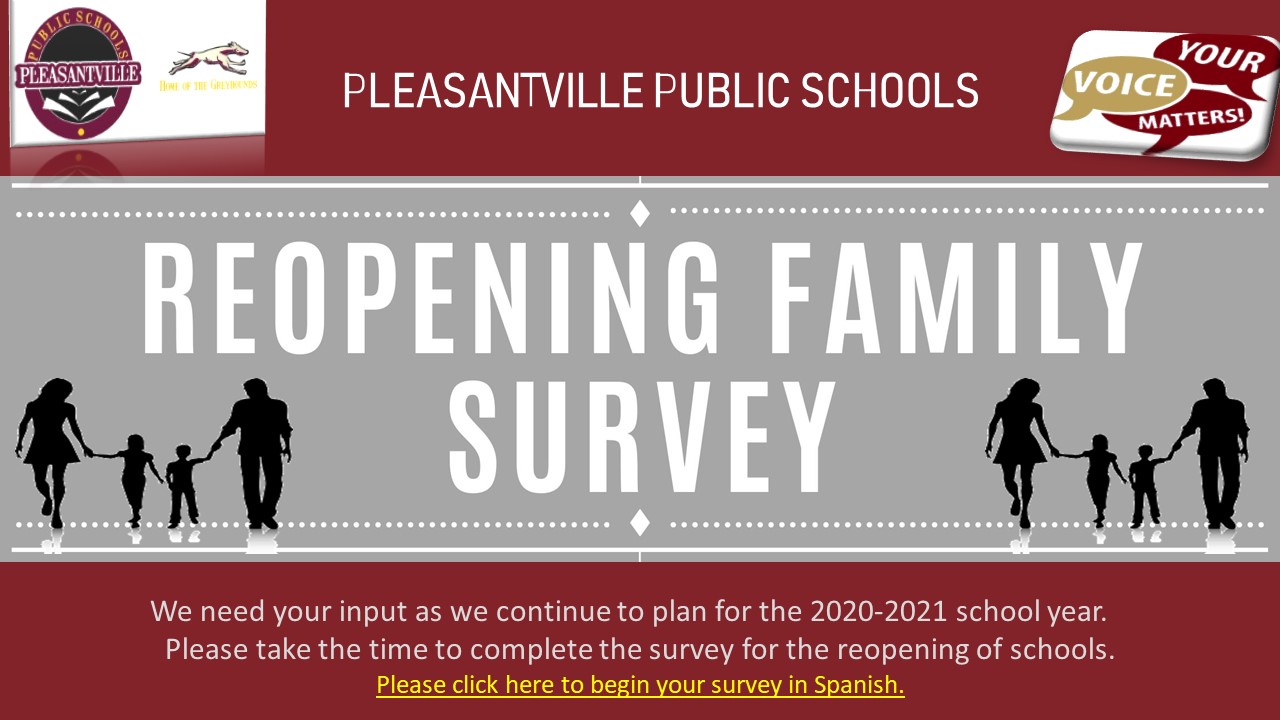 Click the above survey in Spanish.
Click above to begin staff survey.
July 9, 2020
Dear Pleasantville School Students, Staff, Parents and Residents,
On July 1, 2020, I had the honor and privilege of becoming the new Superintendent of the Pleasantville School District. I would like to thank the Pleasantville Board of Education for appointing me to this position. I look forward to working with the Board to continue to move our District towards greater academic excellence, and to continue to provide a quality and comprehensive education for all students. I take very seriously that you have entrusted the young people of this community to our care and expect our fine staff to give their best day in and day out.
We are in extraordinary times, but I know that we will rise up and continue to provide the best educational opportunities for all students. We will prepare students for life's challenges and rewards that extend well beyond the classroom walls. Increased academic rigor, modern technology, global competition, whole child centered curriculum, all shape teaching and learning today. But a robust educational program can only succeed if there is a very high level of community and parent involvement. Please know that it is my intent to make every effort to foster and cultivate this unity and involvement to ensure the continued success of our students, schools and community.
Of course it is essential that we take every precaution to keep your children and our staff safe. We are in the process of developing a re-opening plan. In doing so, we will reach out to all stakeholders: parents, teachers, students, and community members. We want your input into how you believe our schools can re-open safely this fall.
In the coming days and after school re-opens, I will be visiting each of our schools and look forward to getting to know our students, teachers and staff. I also look forward to working with the administrative team to maintain our excellence and drive us toward continuous improvement.
Working together we will inspire success and a lifetime of learning. Enjoy the rest of your summer!
With Pleasantville pride,
Dr. Natakie Chestnut-Lee
Superintendent
9 de julio de 2020
Estimados estudiantes, personal, padres y residentes de la escuela de Pleasantville:
El 1 de julio de 2020, tuve el honor y el privilegio de convertirme en el nuevo Superintendente del Distrito Escolar de Pleasantville. Me gustaría agradecer a la Junta de Educación de Pleasantville por nombrarme para este puesto. Espero con interés trabajar con la Junta para continuar moviendo a nuestro Distrito hacia una mayor excelencia académica, y para continuar proporcionando una educación de calidad e integral para todos los estudiantes. Me tomo muy en serio que ha confiado a los jóvenes de esta comunidad a nuestro cuidado y esperamos que nuestro excelente personal brinde su mejor día a día.
Estamos en tiempos extraordinarios, pero sé que nos levantaremos y continuaremos brindando las mejores oportunidades educativas para todos los estudiantes. Prepararemos a los estudiantes para los desafíos y recompensas de la vida que se extienden mucho más allá de las paredes del aula. Aumento del rigor académico, la tecnología moderna, la competencia global, el plan de estudios centrado en todo el niño, todo da forma a la enseñanza y el aprendizaje de hoy. Pero un programa educativo sólido solo puede tener éxito si hay un nivel muy alto de participación comunitaria y de los padres. Tenga en cuenta que es mi intención hacer todo lo posible para fomentar y cultivar esta unidad y participación para garantizar el éxito continuo de nuestros estudiantes, escuelas y comunidad.
Por supuesto, es esencial que tomemos todas las precauciones para mantener seguros a sus hijos y a nuestro personal. Estamos en el proceso de desarrollar un plan de reapertura. Al hacerlo, nos comunicaremos con todas las partes interesadas: padres, maestros, estudiantes y miembros de la comunidad. Queremos su opinión sobre cómo cree que nuestras escuelas pueden volver a abrir de manera segura este otoño.
En los próximos días y después de la reapertura de la escuela, visitaré cada una de nuestras escuelas y espero conocer a nuestros estudiantes, maestros y personal. También espero trabajar con el equipo administrativo para mantener nuestra excelencia y conducirnos hacia la mejora continua.
Trabajando juntos inspiraremos el éxito y toda una vida de aprendizaje. Disfruta el resto de tu verano!
Con orgullo de Pleasantville,
Dr. Natakie Chestnut-Lee
Superintendent

June 5, 2020
Dear Pleasantville Community,
Our Board of Education, administration and staff have continuously worked to achieve equality and equity for all students and for everyone in our community. We have held true to the idea that all people are created equal. We continue to denounce discrimination at all levels.
So we now stand in full support of all those who have peacefully protested in recent days.
Our District's commitment to the principles of equity and equality has recently been demonstrated by our Board of Education's involvement in a larger lawsuit filed by a number of non-profit organizations against the State of New Jersey attempting to rectify the fact that many of our public schools have become wholly segregated.
We oppose all forms of racism and will continue to seek justice for all.
These have been challenging times for so many in our community. If you or anyone in your family needs help or guidance, please do not hesitate to reach out to the administration to be put in touch with the many resources that are available.
Stay safe and stay well.
Sincerely,
Dennis J. Anderson
Dennis J. Anderson
Interim Superintendent
5 de junio de 2020
Estimada comunidad de Pleasantville:
Nuestra Junta de Educación, administración y personal han trabajado continuamente para lograr igualdad y equidad para todos los estudiantes y para todos en nuestra comunidad.
Nos hemos mantenido fieles a la idea de que todas las personas son creadas iguales.
Seguimos denunciando discriminación en absolute niveles.
Por lo tanto, ahora apoyamos plenamente a todos aquellos que protestaron pacíficamente en los últimos días. El compromiso de nuestro Distrito con los principios de equidad e igualdad ha sido recientemente demostrado por la participación de nuestra Junta de Educación en una demanda mayor presentada por un número de organizaciones sin fines de lucro contra el Estado de Nueva Jersey que intentan rectificar el hecho de que muchas de nuestras escuelas públicas se han segregado por completo.
Nos oponemos a todas las formas de racismo y seguiremos buscando justicia para todos.
Estos han sido tiempos difíciles para muchos en nuestra comunidad. Si usted o alguien en su la familia necesita ayuda u orientación, no dude en comunicarse con la administración para ponerse en contacto con los muchos recursos disponibles.
Mantente seguro y bien.
Sinceramente,
Dennis J. Anderson
Dennis J. Anderson
Superintendente interino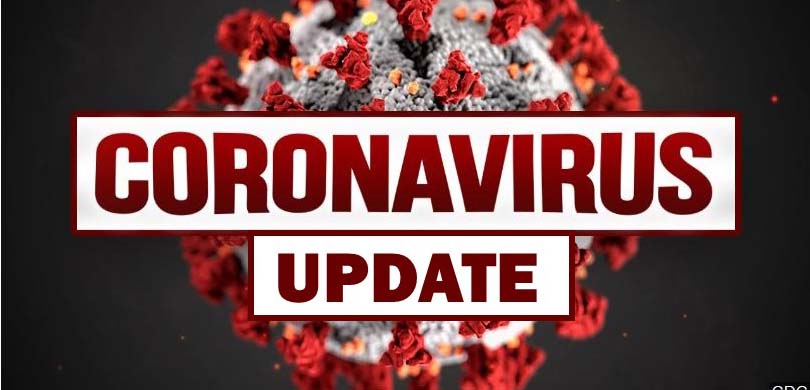 Pleasantville Public School District reaponse to addressing all
updates on the COVID-19 Coronavirus.
Click below to read letters of updates.
BIDS AND PROPOSALS
THE PLEASANTVILLE BOARD OF EDUCATION WILL BE CANCELLING RECEIPT OF BIDS OR PROPOSALS PUBLICLY ADVERTISED PER N.J.S.A. 40A:1-23 AND 18A:18A-21.
NO BIDS OR PROPOSALS SHALL BE RECEIVED DURING THE PERIOD OF MARCH 16, 2020 TO MARCH 30, 2020 DUE TO MANDATORY SCHOOL CLOSING.
BID 19-24 HVAC PARTS AND MOTORS MARCH 18, 2020
BID 20-10 BUS REPAIR & MAINTENANCE SERVICE MARCH 18, 2020
RFP 20-11 DISTRICT AUDITOR MARCH 25, 2020
RFP 20-04 SCHOOL PHYSICIAN MARCH 25, 2020
RFP 20-03 BOARD ATTORNEY MARCH 31, 2020
ANY BIDS MAILED TO THE PLEASANTVILLE BOARD WILL BE RETURNED UNOPENED TO VENDOR. DUE TO THE UNFORSEEN CIRCUMSTANCES THE BIDS AND PROPOSALS WILL BE READVERTISED.
THANKS FOR YOUR PATIENCE
PLEASANTVILLE PUBLIC SCHOOLS
2019-2020 SCHOOL YEAR BELL SCHEDULE
HIGH SCHOOL -

School Hours: 7:20 am – 2:10 p.m.




Early Dismissal: 12:33 pm
MIDDLE SCHOOL - School Hours: 8:05 am – 2:31 p.m.
Early Dismissal: 1:07 pm
ALL ELEMENTARY SCHOOLS -
School Hours:
PreK students will be dismissed at 2:50 pm
Project Child Find
Professional guidance, assessment and an educational program are all available free for eligible children. For more information please contact the Pleasantville Public Schools District Child Study Team office at 383-6800 ext. 2240 or ext. 2241.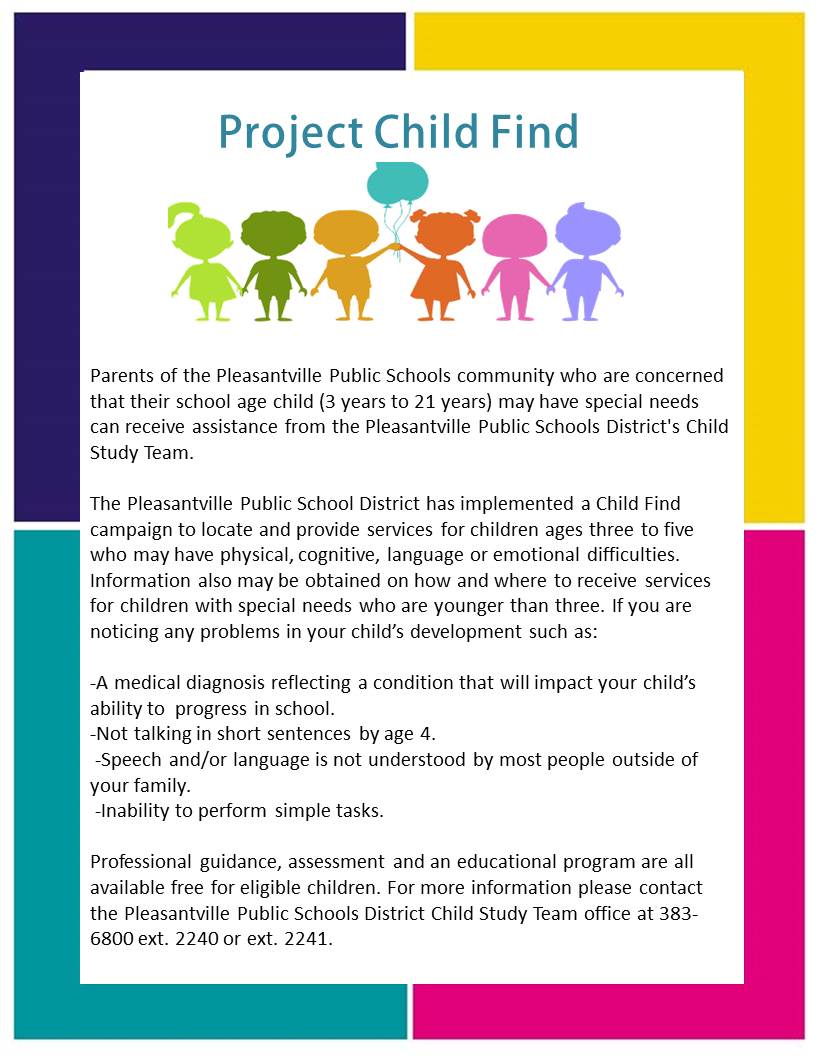 Standard Operating Procedures
District Standard Operating Procedures 2019-2020
Comprehensive Equity Plan 2019-2022
This plan will help to provide equality and equity in educational programs.
School Performance Report 2017-2018
School Performance Report 2017-2018
Elementary Grading and Assessment Handbook
Standard-Based Report Card Frequently Asked Questions
Professional Development Plan
The professional development plan for the 2018-19 school year.
District Strategic Plan 2018-19
Including Superintendent and District Goals
Comprehensive K-12 Guidance Plan
For the school year 2018-19
District Technology Plan 2016-2019
Board approval August 16, 2016 meeting.
If your child should be crawlng, walking or talking but isn't call

call for information about resources and services for your child

under age 3. Statewide, toll -free 888-653-4463

The Pleasantville School District does not restrict or discriminate based on any race, color, sex, national origin or students with disabilities from participation in any district program, employment decisions or PHS career programs.



Coming Up!
Tue Aug 18
» 6:00 PM BOE Special Meeting Via Zoom Meeting
Tue Sep 15
» 6:00 PM BOE Action Meeting via Zoom
Board Meeting Dates
All meetings begin at 6:00 pm, and are held via Zoom until further notice.
August 18, 2020 - Special Meeting
September 15, 2020 - Action Meeting
October 13, 2020 - Action Meeting
November 17, 2020 - Action Meeting
December 8, 2020 - Action Meeting