Dr. Clarence Alston, Superintendent of Schools
Phone: 609 383-6800
alston.clarence@pps-nj.us
Dr. Garnell Bailey, Assistant Superintendent of Human Resources
Phone: 609 383-6800
bailey.garnell@pps-nj.us
Mr. Elisha Thompkins, Business Administrator/
Board Secretary
Phone: 609 383-6800
Dr. Noëlle Jacquelin, Director of Curriculum and Instruction
Phone: (609) 383-6800 x2399
Ms. Karin R. Farkas, Director of Special Services
(609) 383-6800 ext. 2240/2241
News & Announcements
Pleasantville School District Surveys
South Main Street School's 7th Annual Rise Up March
Becoming
Click photo below to view full article.
Pleasantville, Stockton partner for literacy program at North Main Street School
Click photo below to view full article.
Members of the PHS drum line and color guard marched in the 84th Annual St. Patrick's Day Parade in Newark! NJ's oldest St. Patrick's Day Parade. Click photo to view NJ.com article.
North Main Street School in Pleasantville holds African American Heritage Celebration
Click photo to view article.
Professional guidance, assessment and an educational program are all available free for eligible children. For more information please contact the Pleasantville Public Schools District Child Study Team office at 383-6800 ext. 2240 or ext. 2241.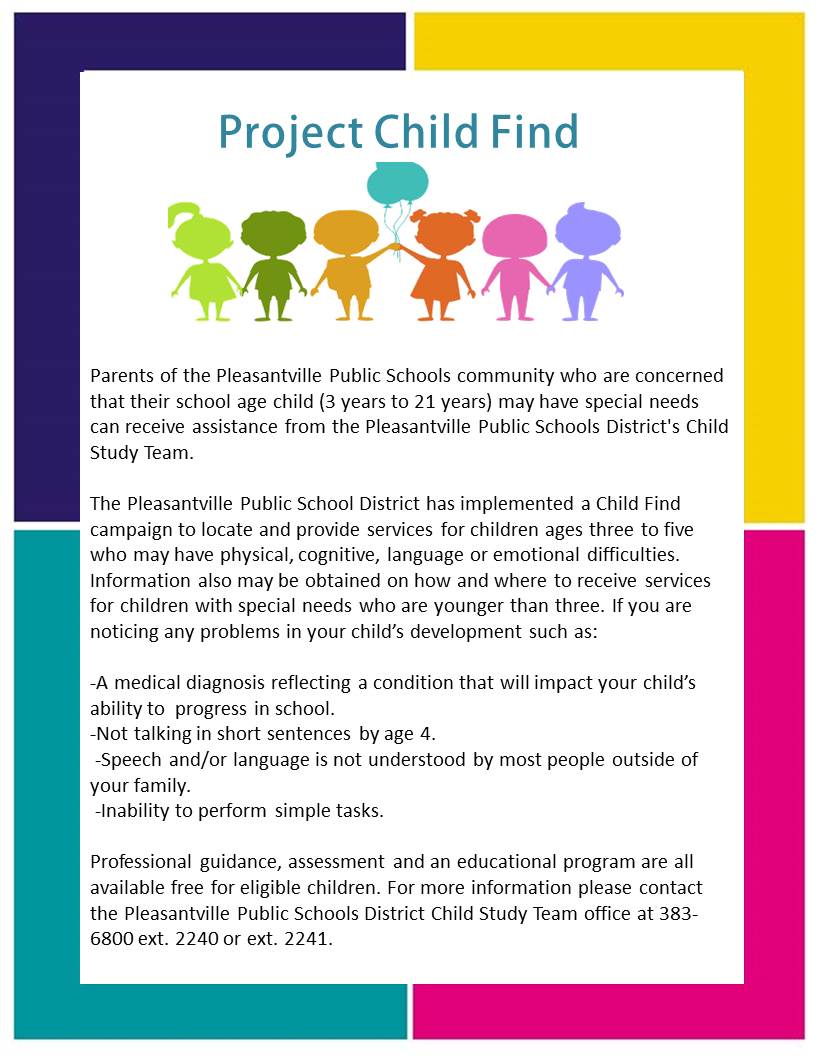 FREE Pre-K Registration is now OPEN! Morning: 8:30 AM - 12:30 PM
Afternoon: 1:30 PM - 3:30 PM Monday - Thursday 16 W. Leeds Avenue
Attention! Pleasantville Public Schools Important Notice Regarding Road Construction.
Please click the links below for details.
IMPORTANT NOTICE REGARDING ROAD CONSTRUCTION
ON OR ABOUT MAY 14TH 2018 SOUTH JERSEY GAS WILL BEGIN
IT'S REMEDIATION PROJECT WHICH WILL INVOLVE SEVERAL
ROAD CLOSURES STARTING AT NORTH FRANKLIN BVD. AND
OLD TURNPIKE. THESE CLOSURES WILL EFFECT ALL TRAFFIC
INCLUDING ALL SCHOOL BUSES. PLEASANTVILLE TRANSPORTATION
STAFF WILL BE INSTRUCTING PARENTS AND STUDENTS TO ALTERNATE
PICKUP AND DROP OFF STOPS AS NEEDED. THANK YOU IN ADVANCE FOR
YOUR PATIENCE FOR THIS WILL CAUSE DELAYS THRU THE END OF THIS
CURRENT SCHOOL YEAR AND INTO THE UPCOMING SCHOOL YEAR.
SHOULD YOU NEED ANY MORE INFO REGARDING THIS PROJECT PLEASE
FOLLOW THE LINKS PROVIDED BY SOUTH JERSY GAS.