<!- box:box-7 -->
Pleasantville High School
PHS Virtual Back to School Night
High School Home
Calendar
School Store 'The Wolf Pack'
PHS Early College
Administrative Team
Alma Mater
Community
edConnect NJ
Freshman Academy
Guidance
JROTC
Media Center
Mission
NJ School Performance Report 2018-19
National Honor Society
Parent Page
PBSIS
PHS Child Study Team
Photo Gallery
SAT Question of the Day
Scholarships
Sports
Student Handbook
Teacher Websites & Calendars
Technology Service Request
Title IX
Pleasantville High School
Welcome to PHS Home of the Greyhounds

701 Mill Road
Pleasantville NJ. 08232
(609) 383-6900
Howard Johnson, Principal
Andrea Atkins-Turner, Assistant Principal
Rayna Hendricks, Assistant Principal
School Hours: 7:20 am – 2:10 p.m.
Early Dismissal: 12:33 pm
Delayed Opening 9:15 a.m. – 2:05 p.m.
In effect when announced by the Superintendent of Schools.
Pleasantville High School Guidance Google Classroom Link
For any High School Student Needing Help. Counselor are available to assist you.
Pleasantville Senior Noel Gonzalez (pictured above), along with Principal Johnson and Acting Principal Atkins-Turner, scored his 1,000
th
point this week against Oakcrest HS.
Dear Parents/Guardians,
As we plan for the reopening of our schools. We are asking you to let us know your preference for your child, whether they will remain in Virtual Instruction or return to Hybrid Instruction, two days per week. Those choosing Hybrid Instruction will be assigned to a Cohort by the school. Cohort A will meet (Monday and Tuesday). Cohort B will meet (Wednesday and Thursday). Fridays will be Virtual Instruction for all students and staff. Please fill out the PHS Google Form below. This is time-sensitive information which must be received by March 1, 2021. If we do not hear from you, it is assumed that your choice is for your child to remain in virtual instruction.
https://docs.google.com/forms/d/e/1FAIpQLSd7khw_1XhOtDMrXP2Q5AxX1HACPcG2d691pn_krwyp0Im7bA/viewform?usp=sf_link
August 20, 2020
Dear Students and Families of Pleasantville School District,
I hope this letter finds you well, even during this uncertain time. We certainly are experiencing some unprecedented events. I want to thank everyone in advance for your support, patience, flexibility, and understanding.
This letter shall notify all of our families that the Pleasantville Board of Education approved my recommendation for the District to implement remote/virtual learning for all of our students for the first marking period of the 2020-21 school year. More detailed information on the specifics about the implementation of the remote/virtual learning will come from your student's principal in the very near future.
The first full day of school for students will be September 8, 2020. Attached to this letter is a copy of the revised school calendar for the 2020-21 school year. Also, attached is a copy of each school's daily schedule.
Please be assured that we have looked at all of the options for our students, and we sincerely believe that providing remote/virtual learning for our first marking period is in the best interest of all students and staff, and will fulfill our top priorities of maintaining academic excellence and safety for everyone.
If you have any further questions or concerns, please do not hesitate to contact my assistant, Ms. Bishop, at extension 2507, to set up a time to speak.
Stay strong.
Be Safe and Be Well,
Students: you will need your login and password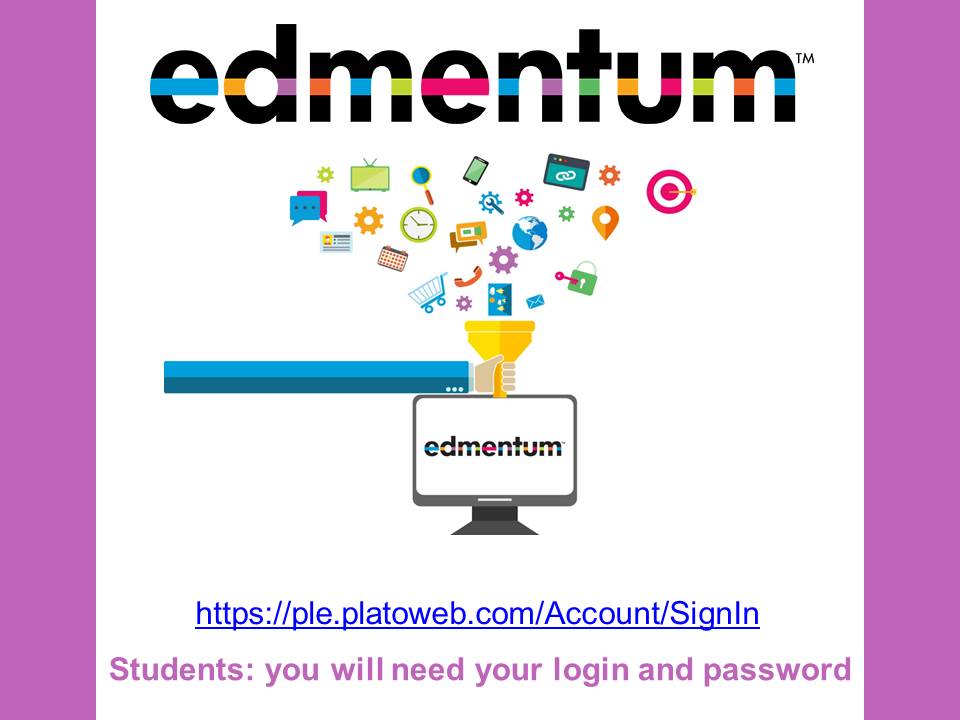 NJ Positive Behavior Support in Schools (PBSIS)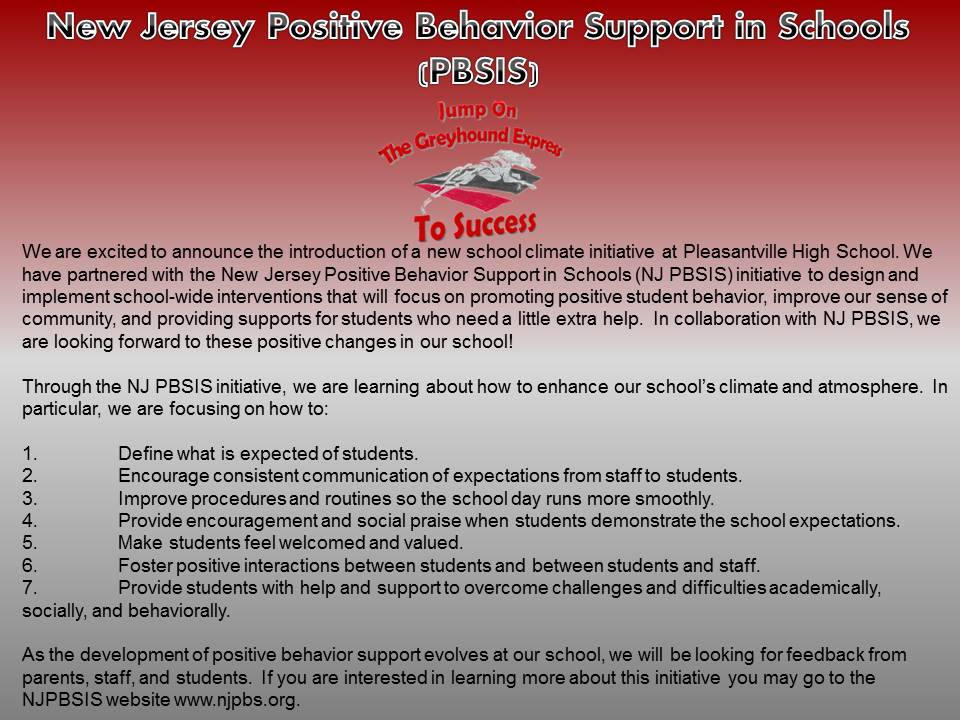 The Pleasantville School District does not restrict or discriminate based on any race, color, sex, national origin or students with disabilities from participation in any district program, employment decisions or PHS career programs.
---
Pleasantville High School is committed to excellence in education. Our curriculum is aligned to the New Jersey Core Curriculum Standards, as well as regulations and specifications outlined in NCLB. These standards shape our curriculum and provide focus for our instruction. Our mission seeks to: educate teachers, staff, parents, board members and the community to facilitate optimal learning for all students and to enable them to lead fulfilling and productive lives in our changing and complex society.
Coming Up!
Tue Apr 20
» 6:00 PM BOE Action Meeting via Zoom