Mr. Dennis J. Anderson, Interim Superintendent of Schools
Phone: 609 383-6800
anderson.dennis@pps-nj.us
Mr. Carmine C. Bonanni, Interim Assistant Superintendent
Mr. Elisha Thompkins, Business Administrator / Board Secretary
Ms. Karin R. Farkas, Director of Special Services
---
News & Announcements
Attention: ALL Pleasantville – Pre-K Parents
Pleasantville Early Childhood Program – Atlantic County Health Department
Mrs. Sheila Ceasar, Early Childhood Program Administrator
Call - Trisha Dansby, MSSW – Family Resources & Social Services
Call - 609 383-6800 X 4141
****2019 Flu Shot Location – Leeds Avenue School Cafeteria****
Mrs. L. Stuart-Smith, Principal, - 100 W. Leeds Ave. Pleasantville, NJ
Required ALL Pre-K students must have "Flu-Shot Proof"
FREE Prevention Pre-K Lead Screening (Older house communities)
Wednesday, October 23, 2019 – 2:30 PM – 4:00 PM
A Parent MUST be present with ID - Please bring current insurance card
FREE - New Jersey Family Care Plan A - Others pay $15.00
ALL Pre-K Must have documented proof of the Flu Shot immediately
~~~~~~~~~~~~~~~~~~~~~~~~~~~~~~~~
Atención a todos los padres de preescolar
Pleasantville Early Childhood Program – Atlantic County Health Department
Mrs. Sheila Ceasar, Early Childhood Program Administrator
Llame - Trisha Dansby, MSSW – Resources & Social Services
609 383-6800 X 4141
Dirección de vacuna contra la gripe – Leeds Avenue School
Mrs. L. Stuart-Smith, Principal, - 100 W. Leeds Ave. Pleasantville, NJ
"Vacuna contra la gripe requerida" y
detección de plomo gratuita
23 de octubre de 2019 – 2:30 PM – 4:00 PM
Los padres deben estar presente con ID
GRATIS - New Jersey Family Care Plan A - Others pay $15.00
Por favor regrese a los maestros de inmediato.
Congratulations Pleasantville Girls Volleyball Team!
The Lady Greyhounds make it to the finals of the CAL Tournament at Stockton University. (Yancely Hernandez featured in the pic). The team loses a close match to Cedar Creek 25-18, 25-22.
Congratulations Melvin Casco!
Boys Soccer: Cape-Atlantic players of the week, Oct. 8
Melvin Casco of Pleasantville is the Cape-Atlantic League player of the week.
CAPE-ATLANTIC LEAGUE PLAYERS OF THE WEEK, OCT. 8
Field Player: Melvin Casco, Pleasantville, Sr., Midfielder
Casco scored four goals and had two assists to lead Pleasantville over Holy Spirit, 10-1, on Oct. 1. It was the second time that Casco scored four goals this season. On the year, he has 15 goals and 14 assists.
Pleasantville's North Main Street elementary school partners with Stockton University to strengthen literacy and preservice teacher preparation.
A strong foundation for teacher education and reading instruction
A Stockton University student practices teaching literacy with a Pleasantville student. Photo by Diane D'Amico/Stockton University.
Congratulations Nia!
Pleasantville grad Nia Ali wins 100-meter hurdles at world championships in Qatar
Gold Medalist Nia Ali celebrates her victory at the World Athletics Championships in Doha, Qatar, on Sunday.
PLEASANTVILLE PUBLIC SCHOOLS
2019-2020 SCHOOL YEAR BELL SCHEDULE
HIGH SCHOOL -

School Hours: 7:20 am – 2:10 p.m.




Early Dismissal: 12:33 pm
MIDDLE SCHOOL - School Hours: 8:10 am – 2:31 p.m.
Early Dismissal: 1:07 pm
ALL ELEMENTARY SCHOOLS -
School Hours:
PreK students will be dismissed at 2:45 pm
Congratulations!
PAA Administrator of the Year
Teresa McGaney-Guy
District Teacher of the Year 2019
Congratulations!
PHS Kelsey Shockley
FREE Pre-K Registration is now OPEN!
Morning: 9:00 AM - 12:00 PM
Afternoon: 1:00 PM - 3:00 PM
Monday - Thursday
16 W. Leeds Avenue
(Next to Leeds Ave. School)
Congratulations!
Pleasasntville Public Schools 2019-2020
Teacher of the Year, Educational Service Professional of the Year, and
Educational Support Professional of the Year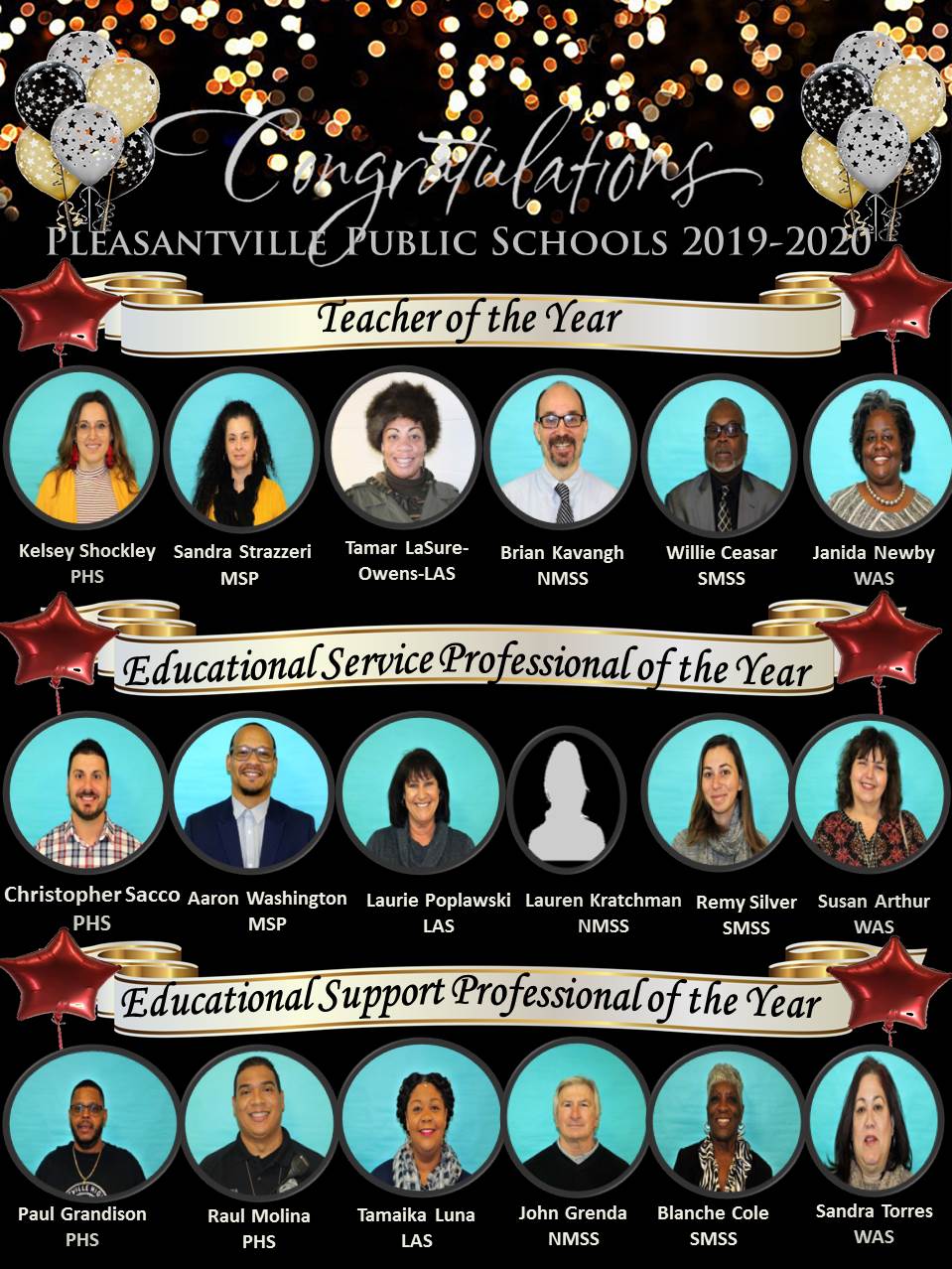 Project Child Find
Professional guidance, assessment and an educational program are all available free for eligible children. For more information please contact the Pleasantville Public Schools District Child Study Team office at
383-6800
ext. 2240 or ext. 2241.