Dr. Clarence Alston, Superintendent of Schools
Phone: 609 383-6800
alston.clarence@pps-nj.us
Dr. Garnell Bailey, Assistant Superintendent of Human Resources
Phone: 609 383-6800
bailey.garnell@pps-nj.us
Mr. Elisha Thompkins, Business Administrator/
Board Secretary
Phone: 609 383-6800
Dr. Noëlle Jacquelin, Director of Curriculum and Instruction
Phone: (609) 383-6800 x2399
News & Announcements
C.A.R.E.'s After School Tutorial Program: Math - Language Arts - Science - Social Studies
Certified Teacher - Kaisha Medina, at

North Main Street School
.
Congratulations Renee Alford
2018 Exemplary Elementary Educator
SAVE THE DATE
Still A Rose: Aretha Franklin
The PHS Celebration of Black History Month
And Women's History Month
Thursday, February 28, 2019 at 9am and 12:45pm
Friday, March 1, 2019 at 9am and 12:45pm
Congratulations Ms.Karin Farkas!
Director of Special Services
Pleasantville Public Schools Educator Nominated for National LifeChanger of the Year Award
January 28th, 2019 – Pleasantville, NJ – Pleasantville Public Schools director of special services Karin Farkas has been nominated for the 2018-2019 national LifeChanger of the Year award.
Farkas is being celebrated as a LifeChanger in her community for her dedication to students and colleagues. She was nominated by her colleague, Vanessa Jerkins.
"Ms. Farkas is a caring person who is always looking out for her staff," said Jerkins. "Ms. Farkas looks out for the safety of the Student Special Service Department in all different schools throughout our district. It's a privilege to nominate her for this award."
About LifeChanger of the Year
Sponsored by the National Life Group Foundation, LifeChanger of the Year recognizes and rewards the very best K-12 educators and school district employees across the United States who are making a difference in the lives of students by exemplifying excellence, positive influence and leadership.
Each school year, LifeChanger of the Year receives hundreds of nominations from all 50 states and the District of Columbia. Seventeen individual LifeChanger of the Year awards will be given during the 2018-2019 school year.
(1) Grand Prize Winner – will receive $10,000 to be shared with their school/district.
(4) Grand Prize Finalists – will receive $5,000 to be shared with their school/district.
(10) LifeChanger Award Winners – will receive $3,000 to be shared with their school/district.
(1) Spirit Award Winner – This award is given to the nominee whose community demonstrates the most support for their nomination. The winner will receive $5,000 to be shared with their school/district.
(1) Spotlight Award Winner – This award is given to a nominee in a specific discipline each year. For 2018-19, the Spotlight Award will be given to a nominee who works in a counseling role (e.g, guidance counselor, social worker). The winner will receive $5,000 to be shared with their school or district.
Winners are announced via surprise award ceremonies held at their schools. The grand prize finalists will also be honored at a national awards ceremony in April 2019 in Hawaii, where the Grand Prize Winner will be revealed.
Winners are chosen by a selection committee comprised of former winners and education professionals. Nominees must be K-12 teachers or school district employees. To be considered for an award, nominees must
Make a positive impact in the lives of students
Enhance their school or district's atmosphere, culture and pride
Demonstrate exemplary leadership at the school and/or district level
Possess a proven record of professional excellence
Show commitment to building a nurturing environment that supports learning
Adhere to the highest moral and ethical standards
A resource page with ideas for how to celebrate nominees can be found at http://lifechangeroftheyear.com/showspirit/.
To view Ms. Farkas' LifeChanger of the Year nominee profile, or to nominate someone from your school community, visit www.LifeChangeroftheYear.com.
Professional guidance, assessment and an educational program are all available free for eligible children. For more information please contact the Pleasantville Public Schools District Child Study Team office at 383-6800 ext. 2240 or ext. 2241.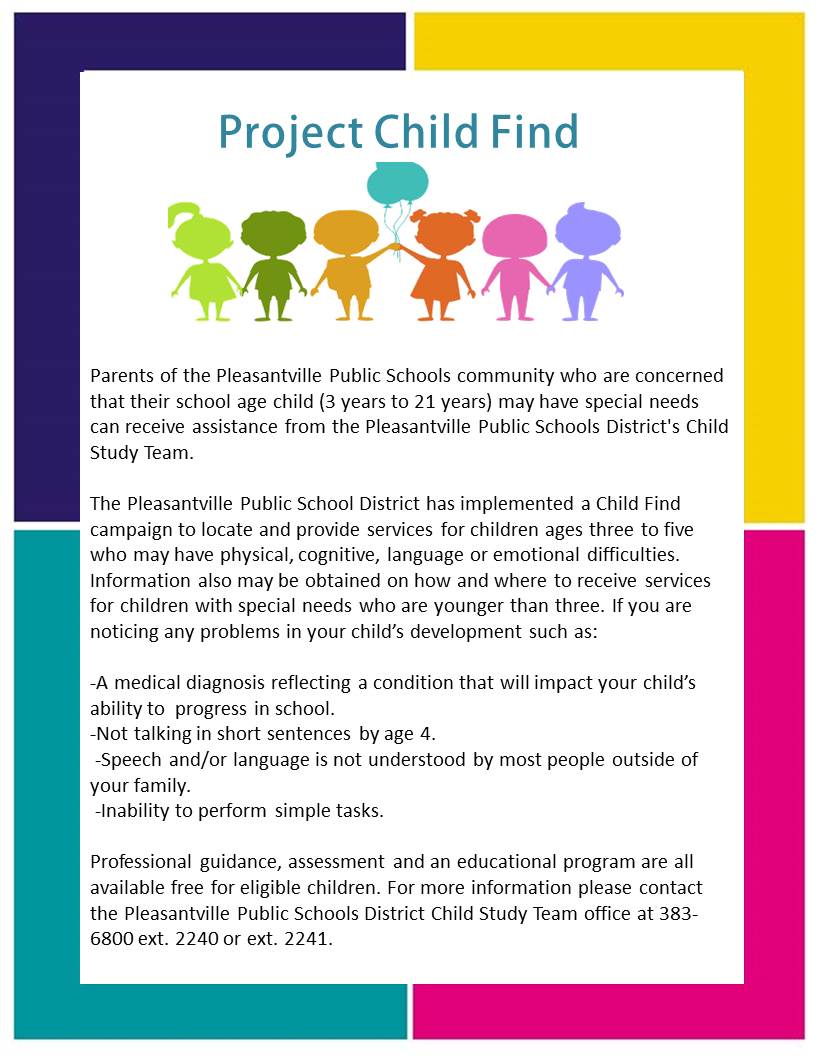 FREE Pre-K Registration is now OPEN! Morning: 8:30 AM - 12:30 PM
Afternoon: 1:30 PM - 3:30 PM Monday - Thursday 16 W. Leeds Avenue
Attention! Pleasantville Public Schools Important Notice Regarding Road Construction.
Please click the links below for details.
IMPORTANT NOTICE REGARDING ROAD CONSTRUCTION
ON OR ABOUT MAY 14TH 2018 SOUTH JERSEY GAS WILL BEGIN
IT'S REMEDIATION PROJECT WHICH WILL INVOLVE SEVERAL
ROAD CLOSURES STARTING AT NORTH FRANKLIN BVD. AND
OLD TURNPIKE. THESE CLOSURES WILL EFFECT ALL TRAFFIC
INCLUDING ALL SCHOOL BUSES. PLEASANTVILLE TRANSPORTATION
STAFF WILL BE INSTRUCTING PARENTS AND STUDENTS TO ALTERNATE
PICKUP AND DROP OFF STOPS AS NEEDED. THANK YOU IN ADVANCE FOR
YOUR PATIENCE FOR THIS WILL CAUSE DELAYS THRU THE END OF THIS
CURRENT SCHOOL YEAR AND INTO THE UPCOMING SCHOOL YEAR.
SHOULD YOU NEED ANY MORE INFO REGARDING THIS PROJECT PLEASE
FOLLOW THE LINKS PROVIDED BY SOUTH JERSY GAS.