Mr. Dennis J. Anderson, Interim Superintendent of Schools
Phone: 609 383-6800
anderson.dennis@pps-nj.us
Dr. Garnell Bailey, Assistant Superintendent
Phone: 609 383-6800
bailey.garnell@pps-nj.us
Mr. Carmine C. Bon Anni, Interim Assistant Superintendent
Mr. Elisha Thompkins, Business Administrator / Board Secretary
Ms. Karin R. Farkas, Director of Special Services
---
News & Announcements
Summer Hours: 8:00 a.m. to 4:30 p.m. Monday thru Thursday.
All schools are closed on Friday during the summer.
PLEASANTVILLE PUBLIC SCHOOLS
2019-2020 SCHOOL YEAR BELL SCHEDULE
HIGH SCHOOL -

School Hours: 7:20 am – 2:10 p.m.




Early Dismissal: 12:33 pm
MIDDLE SCHOOL - School Hours: 8:10 am – 2:31 p.m.
Early Dismissal: 1:07 pm
ALL ELEMENTARY SCHOOLS - School Hours:
PreK students will be dismissed at 2:45 pm
Congratulations PHS JROTC Cadets
16 Pleasantville High School JROTC Cadets attended and graduated from the JROTC Cadet Leadership Challenge at the New York Military Academy, June 28-July 2. Cadets participated in a variety of activities to include Drown Proofing, Repelling, Archery, Rifle Marksmanship, and Land Navigation.

Congratulations Jennifer Ozoria!
PHS Class of 2019 Valedictorian
Pleasantville High School Class of 2019 Valedictorian, Jennifer Ozoria, received the New Jersey Junior Achievement JROTC Scholarship. The $5000.00 scholarship was presented to her Thursday July 25, at a ceremony in Edison, NJ.

Pleasantville Early College Program
gives students taste of college life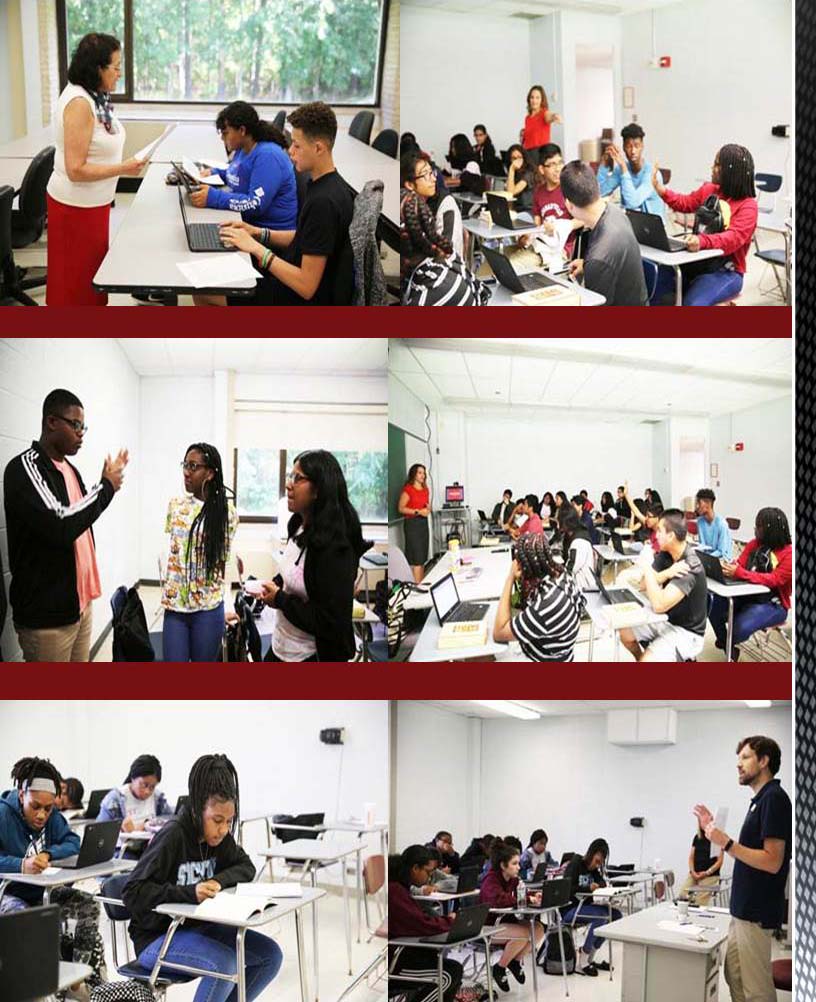 North Main CARE Summer Program Students
working on a LEGO S.T.E.M Project.

C.A.R.E. Summer Program Leeds Ave Site
Working on drawing out the landscape for infrastructure project
C.A.R.E.'s Introduction to Mechanical Drawing / Architecture. The "E" in S.T.E.A.M. ( Engineering ) Blueprints.
The blueprints will be used for the Small City Infrastructure Project. Each C.A.R.E. site will create a blueprint, and construct a Small City / Community.
Care Instructor: Mr. Marlon Hargis

Congratulations!
PAA Administrator of the Year
Teresa McGaney-Guy
Teresa McGaney-Guy is the principal of North Main Street School (NMSS) and has held various positions within the district. From the inception of her career in education, her passion and previous positions held in the educational field has steadily advanced and prepared her for her current position. Serving as a teacher for several years, Teresa was also a summer enrichment supervisor, reading facilitator, assistant principal and interim director of special projects.
In 2001, she was awarded the Teacher of the year at Leeds Avenue School; selected by Phi Delta Kappa for the Educational Excellence Award in 2015; and selected by the National Association of Negro Business and Professional Women's Clubs, Inc. in 2016 for the Professional Achievement Award.
In addition to her individual awards, Teresa and her staff at the NMSS School has received the Apple ConnectED grant, Lowes Playground grant, T-Mobile grant and the Model Classroom Grant. The Model Classroom Grant has created an opportunity to partner with Stockton University to improve literacy.
Under her leadership, NMSS was featured in two episodes of NJ Classroom Close Up, whereas the "Change is Here" episode was nominated for an Emmy, while The Peace Zone at NMSS was featured in the NJEA Review.
Her educational experiences have afforded her the opportunity to collaborate with a diverse group of people to meet the common goal of increasing student achievement and well-being. Her educational philosophy is based on her uncompromising belief that given a positive learning environment, strong and knowledgeable leadership, a committed and focused educational team, an encouraging community, and a supportive family, ALL STUDENTS CAN LEARN.

District Teacher of the Year 2019
Congratulations!
PHS Kelsey Shockley
FREE Pre-K Registration is now OPEN!
Morning: 9:00 AM - 12:00 PM
Afternoon: 1:00 PM - 3:00 PM
Monday - Thursday
16 W. Leeds Avenue
(Next to Leeds Ave. School)
Congratulations!
Pleasasntville Public Schools 2019-2020
Teacher of the Year, Educational Service Professional of the Year, and
Educational Support Professional of the Year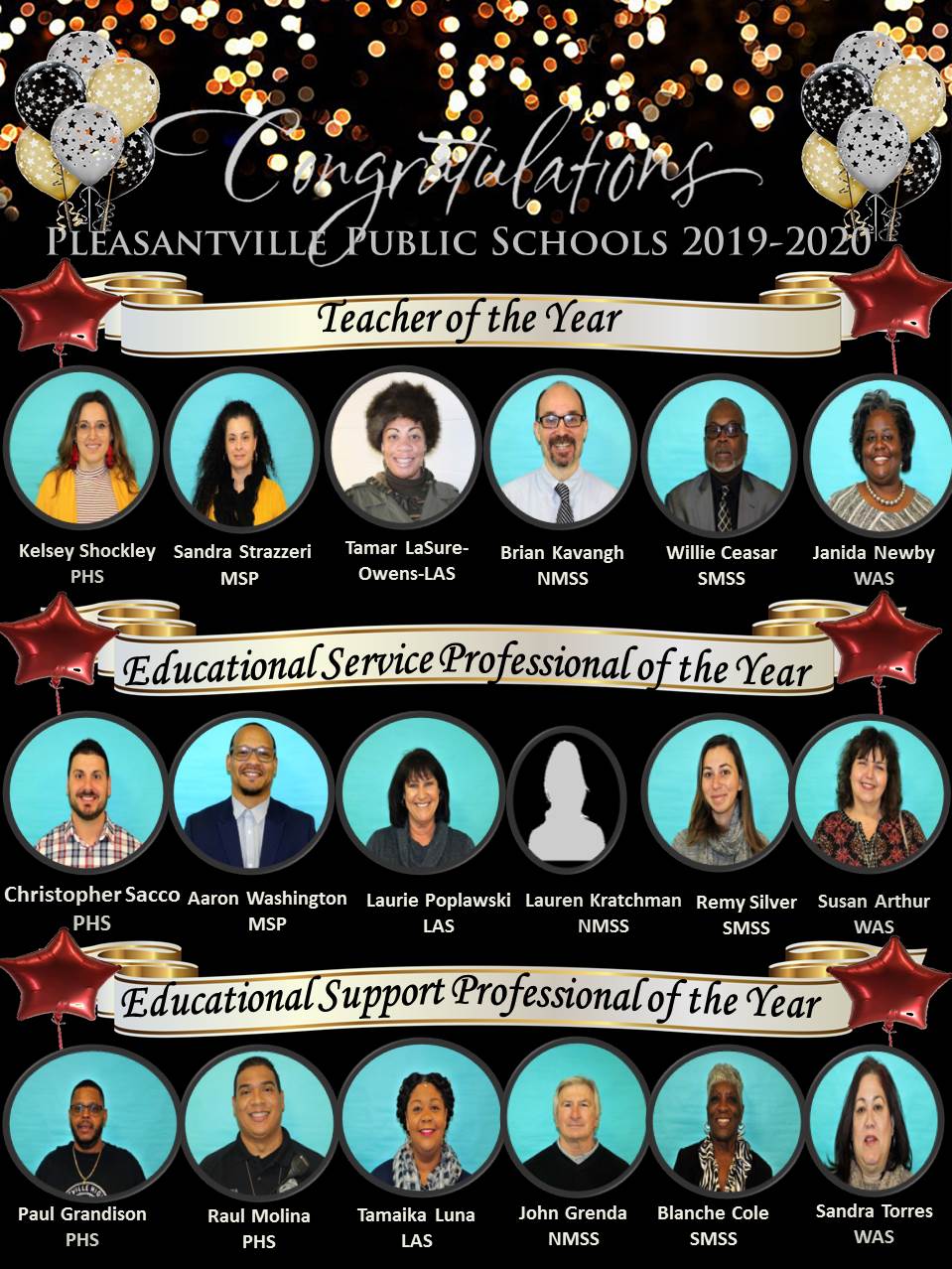 Project Child Find
Professional guidance, assessment and an educational program are all available free for eligible children. For more information please contact the Pleasantville Public Schools District Child Study Team office at
383-6800
ext. 2240 or ext. 2241.