Mr. Dennis J. Anderson, Interim Superintendent of Schools
Phone: 609 383-6800
anderson.dennis@pps-nj.us
Mr. Carmine C. Bonanni, Interim Assistant Superintendent
Mr. Elisha Thompkins, Business Administrator / Board Secretary
Ms. Karin R. Farkas, Director of Special Services
---
News & Announcements
Congratulations PHS Greyhounds JROTC Drill Team!
North Main Street School honors vets
Talking to Children About Viloence: Tips for Parents and Educators
Hablarles a Los niños sobre violencia: consejos para padres y educadores
PLEASANTVILLE PUBLIC SCHOOLS
2019-2020 SCHOOL YEAR BELL SCHEDULE
HIGH SCHOOL -

School Hours: 7:20 am – 2:10 p.m.




Early Dismissal: 12:33 pm
MIDDLE SCHOOL - School Hours: 8:10 am – 2:31 p.m.
Early Dismissal: 1:07 pm
ALL ELEMENTARY SCHOOLS -
School Hours:
PreK students will be dismissed at 2:45 pm
Congratulations!
PAA Administrator of the Year
Teresa McGaney-Guy
District Teacher of the Year 2019
Congratulations!
PHS Kelsey Shockley
FREE Pre-K Registration is now OPEN!
Morning: 9:00 AM - 12:00 PM
Afternoon: 1:00 PM - 3:00 PM
Monday - Thursday
16 W. Leeds Avenue
(Next to Leeds Ave. School)
Congratulations!
Pleasasntville Public Schools 2019-2020
Teacher of the Year, Educational Service Professional of the Year, and
Educational Support Professional of the Year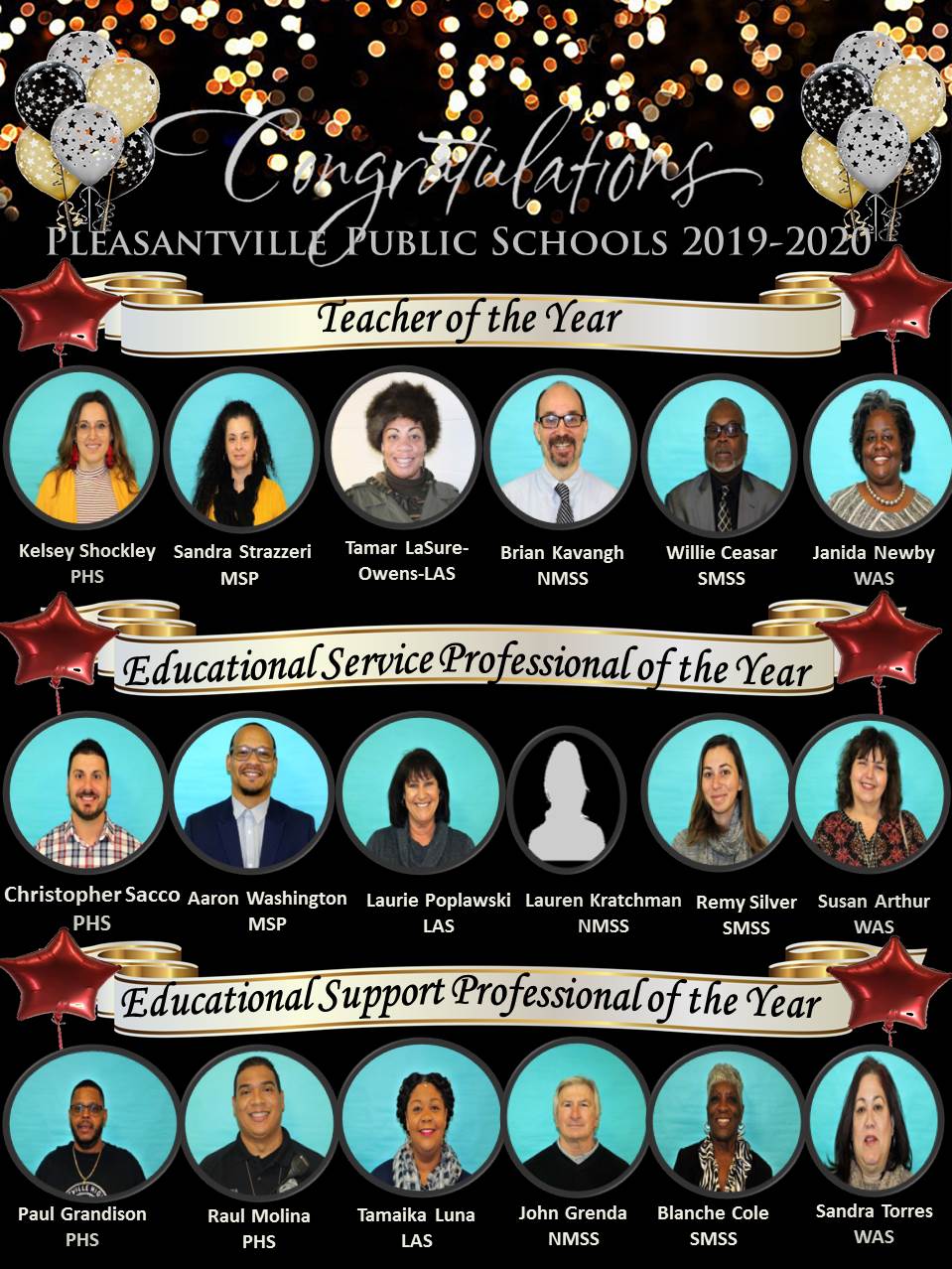 Project Child Find
Professional guidance, assessment and an educational program are all available free for eligible children. For more information please contact the Pleasantville Public Schools District Child Study Team office at
383-6800
ext. 2240 or ext. 2241.